Got mad social media skills? Looking for new angles to monetize those skills? Our Amazon Influencer Program is just what you are looking for!
Your influencer status can lead you to paydirt when you promote products your audience will love. No need for laying down your cash for inventory, creating product listings, or other upfront costs.
As an extension of Amazon's Associates program, the Amazon Influencer Program allows anyone with a qualifying website to promote products and get a piece of the action through Amazon sales commissions. Up to 10% per sale!
Let's get to how you can meet the requirements of the program and start banking those commissions:
How the Amazon Influencer Program works
How to apply and qualify
What to do once you are approved
How to promote products
The Amazon Influencer Program is tailored for those with large loyal followings on their social media accounts. Amazon is keen on the burgeoning marketing power of influencers which has shown itself to be a supercharged way for brands to reach specific audiences.
As the Amazon Associates program, the Amazon Influencer Program helps influencers monetize their promotions through commissions on the sales they bring to Amazon.
Unlike the Associates program where users can only share affiliate links for individual products on their own websites or social media accounts, Influencers create their own custom storefronts on Amazon to direct audience traffic toward the products they support. In other words, ALL of the influencer's product endorsements are just ONE link away. Different products can be categorized in their store to ease navigation
Share your Amazon storefront link across the platforms you inhabit such as Instagram, YouTube, Facebook, Twitter, or your own website. These storefronts come equipped with your own custom URL vanity handle for ease of recognition of your loyal followers.
Qualifying for the Amazon Influencer Program is a bit more involved than for the Associates Program. Associates just need their own website. To be an Influencer, Amazon analyzes your social media accounts to see if you are up to the task.
Once you apply, Amazon has you review the public social media account where you have the biggest pull. The current options include Instagram, YouTube, and Facebook.
Amazon doesn't put a specific number on a minimum number of followers to qualify, the number of followers you have is taken into account. Bigger isn't always better, so don't let that hold you back.
What really matters is real followers who engage with your content and hence are more likely to engage with your promotions. Post count, post consistency and follower engagement metrics are much more impressive to Amazon.
Let's use some numbers here. Say you have 10,000 following you on Instagram. Even though that's not a huge follower base, if they consistently like, comment, and share on your social channels, such engagements signal to Amazon that your followers are also likely to respond with sales for your promotions. Real engagement is what impresses Amazon and earns your acceptance.
That means it's quality over quantity so put your energy into solid consistent high-quality content that brings your supporters back for more again and again. Focus your content on your niche rather than unrelated content. Position yourself to be the 'Go to' in your niche so that followers will seek you out for your perceived expertise.
Once you have engaged followers and rabid fans on social media, you can turn your influence into cash through commissions on your product recommendations. Nearly 10% of third-party sellers turn to influencers to promote their wares and almost 50% of these sellers report their plans to grow their market share through social media and influencer marketing.
To apply, simply click on the 'Sign up' on the Amazon Influencer Program homepage.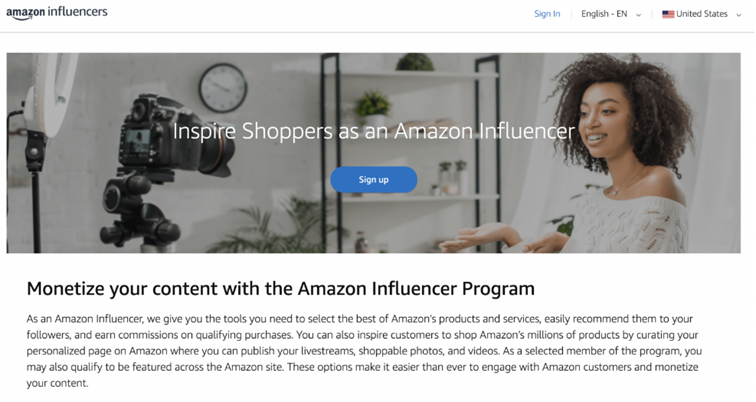 If you have an Amazon customer account or are already an Amazon Associate, you can apply through that account. Otherwise, click 'Create a new account.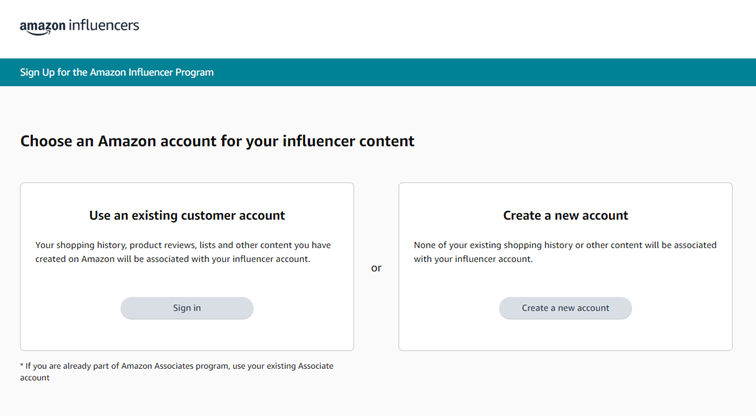 Connect one of your social media accounts to your application. The one with the most followers is probably your best bet. YouTube and Facebook provide instant notification of approval or not, while Instagram may take up to 5 days.
Let's use Instagram for our example. Amazon will ask for your Instagram handle, follower count and post count. Using those, they decide whether or not you can move forward. Then you enter your profile name, a short bio about yourself, what you promote and your other social media account links.
Once in the dashboard, follow the Amazon Influencer Program on Instagram with the account you used for sign-up. You will not be approved until you do so.

While you are waiting for the approval green light, start creating your store!
Each category on Amazon has its own fixed commission rate for Influencers. For example, the Luxury Beauty and Luxury Stores Beauty categories award a 10% commission. At the lowest end, Video Games Consoles, Grocery, Health and Personal Care categories earn a 1% commission.
You can review Amazon's Commission Income Statement to decide which category to promote.
The low commission rate for some categories adds up over time so using your storefront link in your İnstagram bio or YouTube description is still well worth your efforts.
Let's use a popular kitchen product to illustrate what being an Influencer can offer. This category offers a 4.5% commission. Let's say you have 10,000 followers. The product you promote sells for $427.49 on Amazon.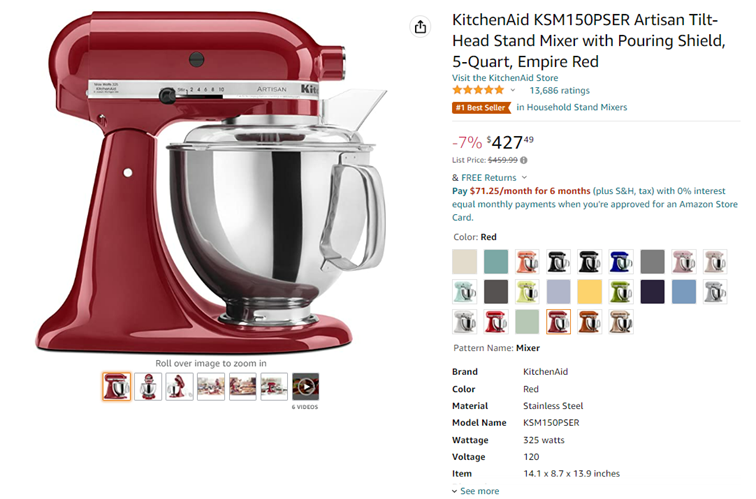 Even if only 1% of your followers buy this product, merely linking to this product in your Instagram bio will bring in $1924! And the sky's the limit when you supply your highly engaged audience!
As with a seller's Amazon Storefront, you as an influencer can add a custom logo and banner image to personalize your landing page. Your followers will instantly know they've reached your store.
Organize the different products you recommend into their respective categories. As your fans click on a category, they will see all the products you promote in that category.
Add shoppable posts to your store as you would on your social media platforms.
To add products to your storefront, click the link on your dashboard

Then select one of the four content options: an idea list, a shoppable photo, a video, or a live video. Let's try an idea list to start with. Enter your idea list name and a description.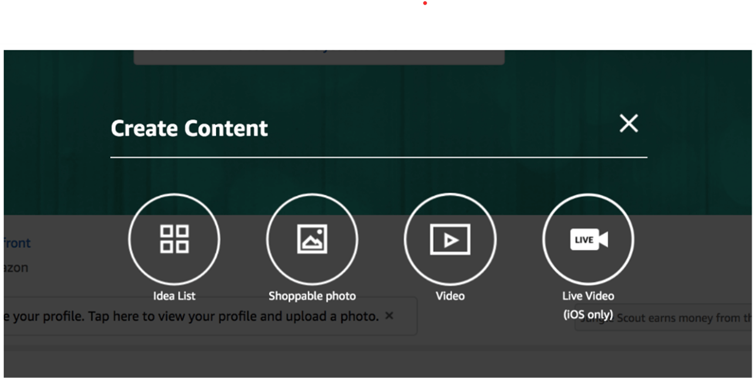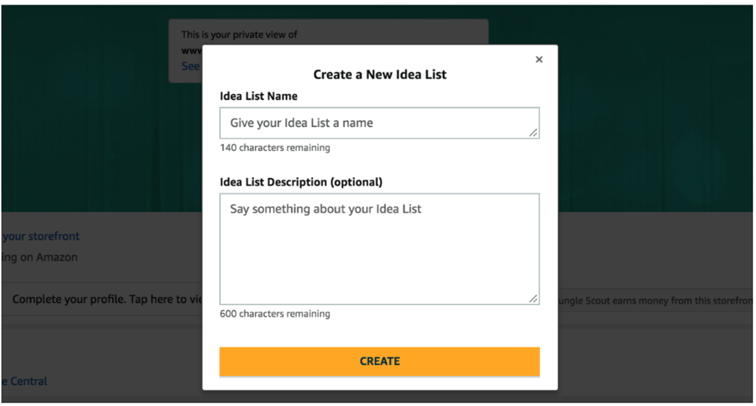 Now, start adding products. As customers click through to one of the products and purchase it, the commissions start coming in. Tracking sales and earnings is easy with your Amazon Associate account.
Once you are approved and get your storefront set up, the real fun starts. Naturally, the first place to start your promotions is through your social media accounts.
Share the products you love with your audience. Those that are engaged will trust your recommendation and this trust will be converted into sales through your storefront.
Here are some tips to help you get started across your various social media accounts.
Provide a link to your influencer page in your bio.
Include a link in your post captions toward your recommendations
Have followers click the link to purchase the products you promote
Build engagement through Instagram stories that can highlight your promotions
Link to your influencer page in your 'About' section
Employ Facebook stories to promote recommended products
Use a 'Shop now' button in your Facebook profile that links to your storefront
Include a link to your influencer page and the related product page with product-related posts
Provide a link to your influencer page in your channel's 'About' section
Create video promotions with your link in the video description so that viewers can shop through that link
Link to your influencer page in your Twitter bio
Tweet about your product recommendations frequently along with your influencer link
Blog about the products your followers are keen on
Post consistently to build engagement, add influencer links where relevant
Share your Snapchat Stories to highlight your influencer page and recommended products
Amazon services, also known as 'Bounties' in the Affiliate program can earn you commissions through your promotions. These services include:
Prime Video Channels Free Trials
Amazon Baby Registry
Amazon Business
Amazon Home Services
Amazon Music Unlimited Free Trials
Amazon Wardrobe
The Amazon Bounty Program offers bounties (fixed commissions) for each service promoted. You can combine product-related promotions with service-related recommendations, such as baby products and the Baby Registry for a 1-2 commission-bounty punch.
Being an Amazon influencer helps you monetize your recommendation of products via your own custom Amazon storefront.
Put your skills at building a following on Instagram, Facebook or Youtube to work for you! Let your influence work for you through promoting products your supporters will love.