Tracking Your Amazon Finances Accurately
See how our Amazon profit calculator, Profit Cyclops, can ramp up your Amazon business today.
Looking to keep track of your overall finances as an Amazon seller? Profit Cyclops streamlines the whole process.
Sales, costs, profits, inventory… these are just a few of the line items in your ledgers when you are maintaining your Amazon business. Without the proper staff or tools, you can waste precious time and money following the money coming in and out of your coffers.
Calculating the profit margins for your Amazon business is central to managing and expanding your brand. In basic terms, as with any business, one starts with the revenue from the products' sales and deducts from that the cost per unit and any other costs incurred.
At Amazon Seller Central, you may be provided information about your expenses and charges. These reports, while reflecting your previous expenses, are not sufficiently detailed or explained. Furthermore, you cannot review the majority of the expenditures that will be applied to your account in the next period. Profitcyclops not only offers all of this information but also visualizes it with graphs to make it more understandable. Before reading the full review of the site, you may go to the Profitcyclops homepage, watch the promotional video or you can try the demo version for yourself.
Product Revenue - ( Cost per unit + Miscellaneous Amazon Seller Costs)
Elements to track regarding your Amazon business's profitability:
Gross revenue
Net profit
Orders placed
Units sold
Refunds requested
Promotions run
Return on investment (ROI)
Profit margin
Inventory level
Such elements make or break your opportunity as a seller to operate a profitable enterprise.
Just have more funds coming in than going out, right? Anyone who has ever run a real business on Amazon has certainly run into one or more of these issues when juggling their finances and championing their brand:
Tracking upward and downward trends in product sales
Waiting and waiting to learn the true reality of their profit margins
Keeping products in stock… or not and the agony of the missed sales that follow
Mismanaging product costs, shipping, refunds, reimbursements, coupons, promos…
Miscalculating profit and loss… and thus determining whether the business is a winner or a lose
But don't despair… Profit Cyclops is here to place all this data right in the palm of your hand so you can track your profitability seamlessly…
Within Profit Cyclops, you can track your Reports of Orders, Sales, Profit Margin Performance on Advertising, and Inventory Levels.
With Profit Cyclops' Stock Alert service, you can track your inventory, that way your most profitable products will never be out of stock!
The tools Profit Cyclops have offer you a panoramic overview of your business's profitability with the following aspects in daily, weekly, or customized time intervals:
Gross Revenue - Total sales for a given time
Cost - Total costs including Promos and Amazon fees
Net Profit - Gross Revenue minus Costs
Margin - Percentage of Gross Revenue that determines your Net Profit
Orders - Total purchases
Units - Total unit numbers based on purchases
Refunds - Total items returned
Our Amazon profits calculator illuminates whether or not you are profitable and provides insight into sales trends, performance, inventory, and much more. Here is more about the functionality of each Profit Cyclops feature to show the power of this tool: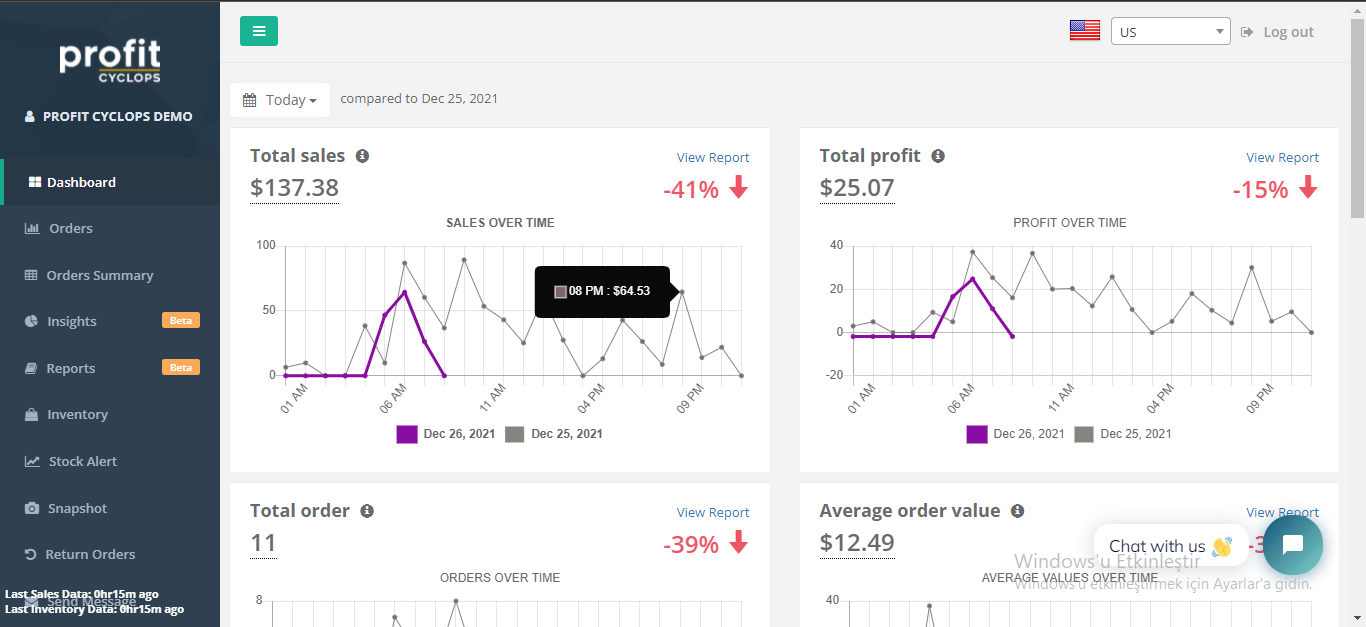 It displays all of your spending on the dashboard without requiring you to do anything else. You can check how much your Amazon FBA fees are and other Amazon charges you have paid by adjusting the period of time. With Profitcyclops, there is no need for another Amazon seller calculator tool. Everything you need to sell on Amazon can be found in one place!
Click on the three bold lines in the top right corner of either graph to get export and printing options for your references.
Dashboard expands on the first section of Profit Cyclops by using graphics and spreadsheets for more informed and just-in-time decisions for your bottom line. It has additional sections including:
Last 24 Months Summary
Last 7 Days Summary
Total Products Count
Total Sale
Total Payout
Total Cost
Total Profit
Using this information gives you a broad overview of your success over time.
On the orders page, you can review the detailed expenses of the sold product for the selected period. Product costs, Amazon FBA fees, total monthly storage fees, PPC rates, and estimated Amazon FBA profits are all displayed in this section for each product. On the order summary page, you can see the orders made in certain periods and other information about the products.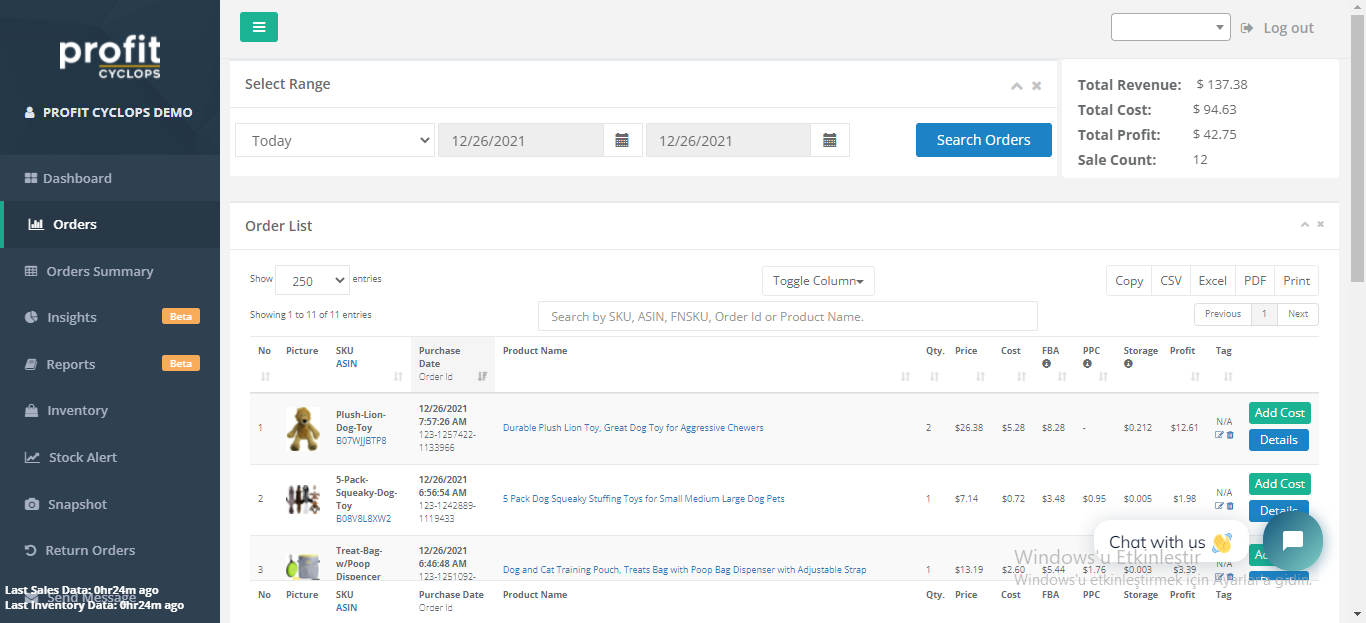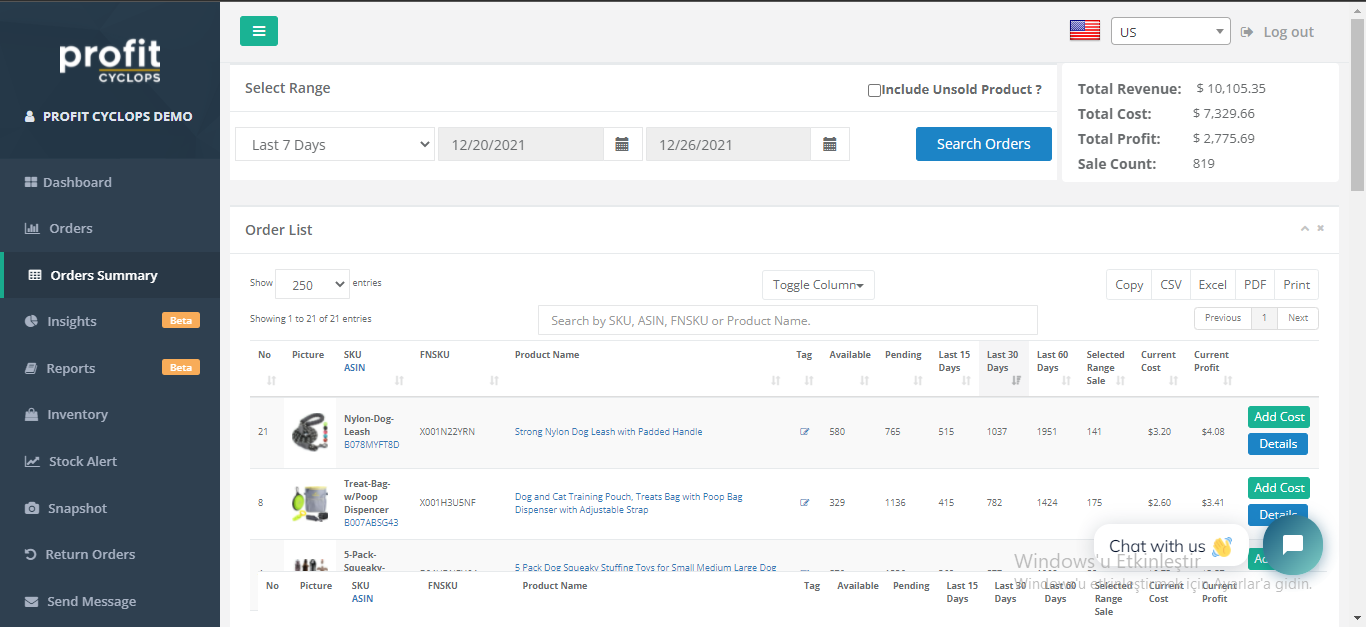 On the reports page, you can find a detailed analysis including profit and loss reports, best-selling products, return orders over time, most profitable products, and a Advertising Cost of Sales (ACOS) report.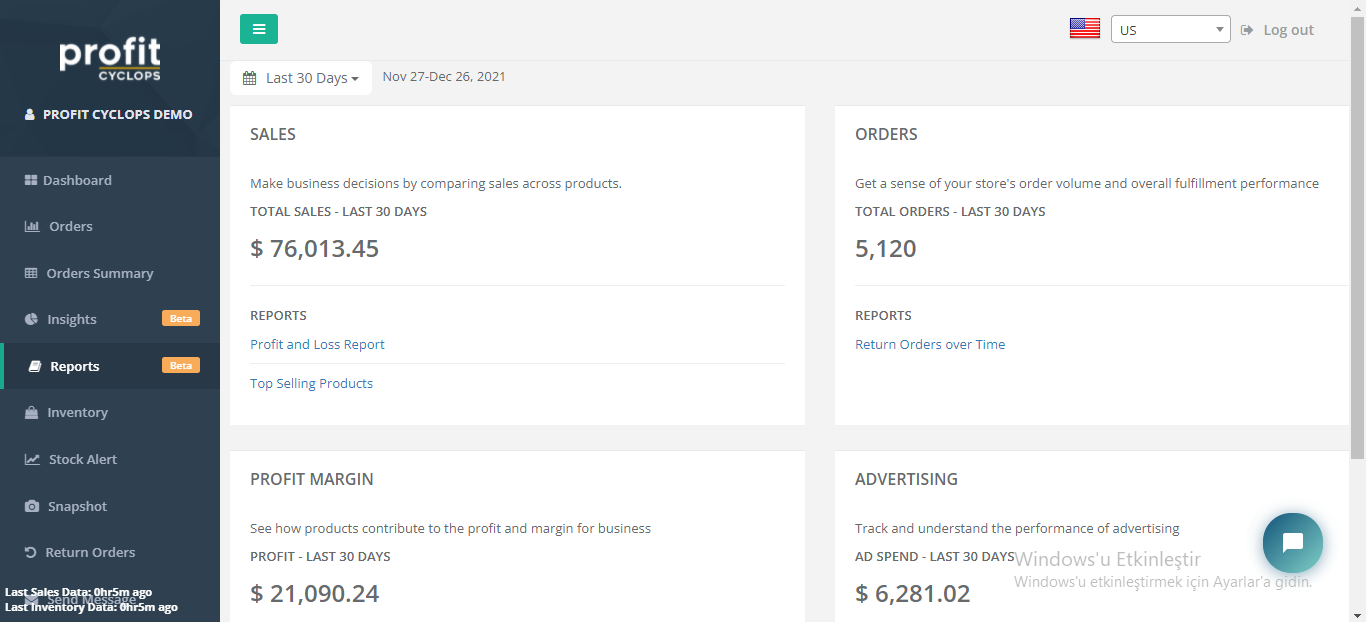 Reports Page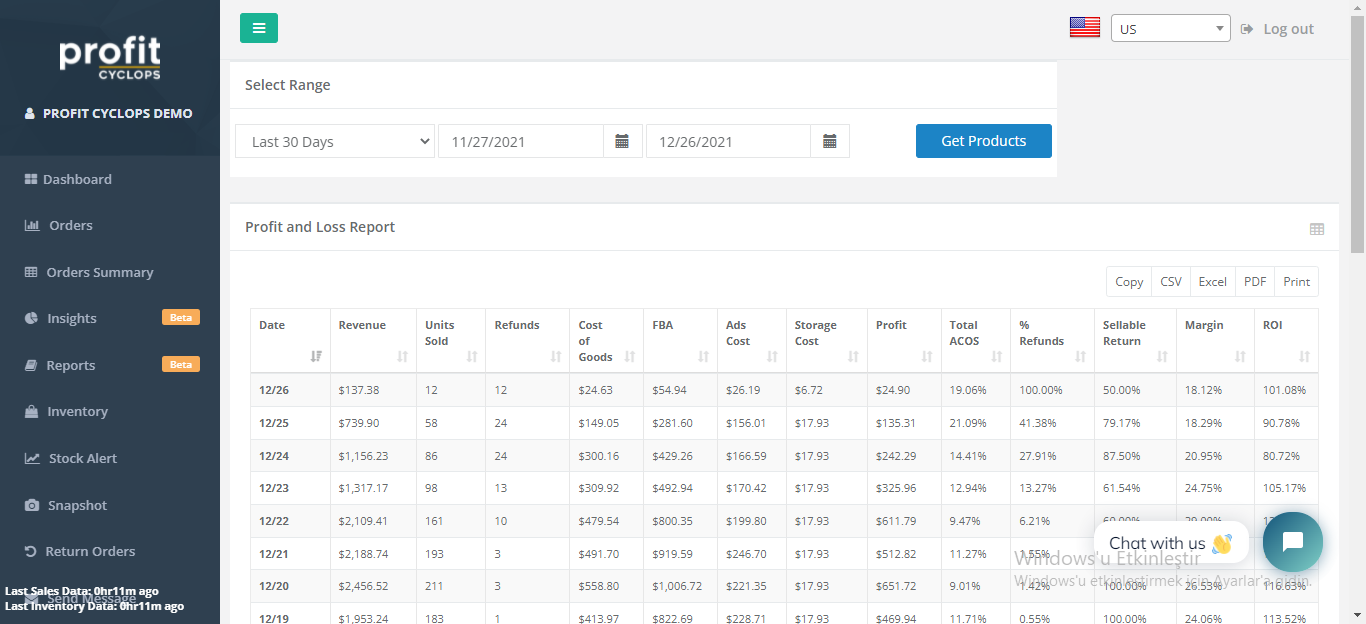 Profit and Loss Report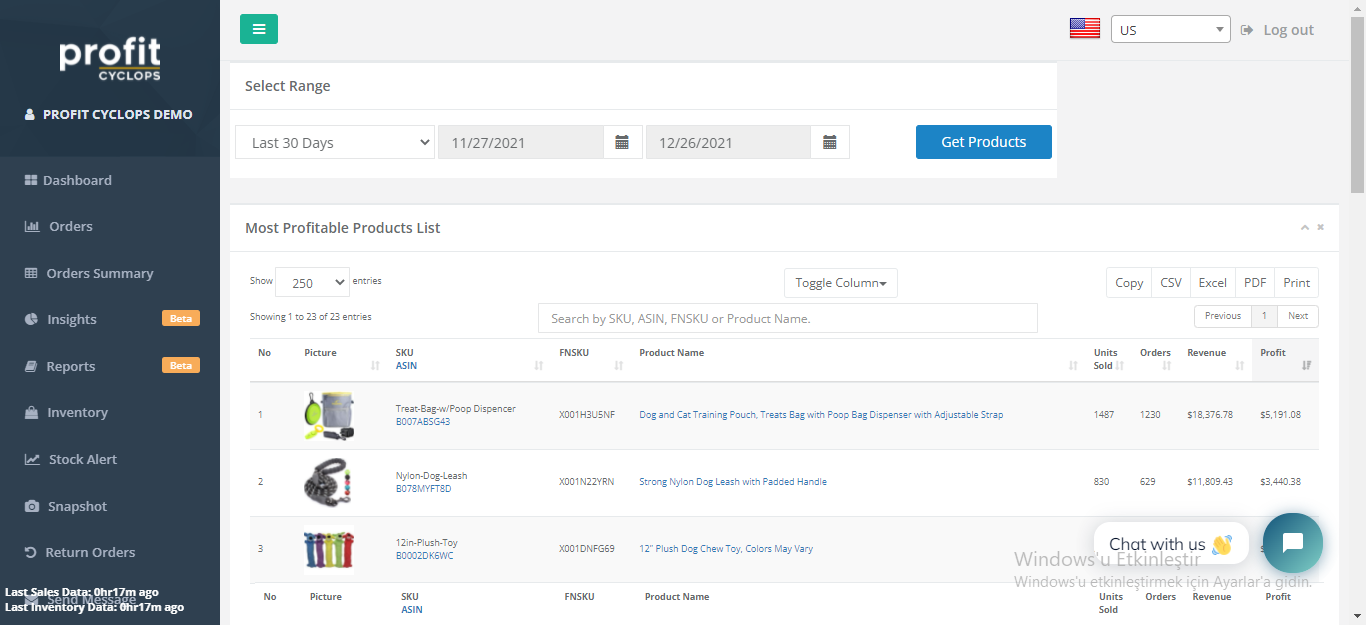 Most Profitable Products Report
The Bestsellers section illustrates the top ASINs of your brand during the latest month. You can hover over specific days for additional info as well.
Using this data, you can make key decisions about what products to keep featuring and those not to. As will the Top Selling Products section in the Insights tab, employ the view report link for comprehensive data about your ASINs.
With this tab, you can track your stock of all your products. It is facilitating the management of inventory currently and into the future.
Why stress out when figuring out your profits? Let our profit calculator lighten your load and streamline the whole shebang. Here are some of the questions our clients often ask:
How is Amazon profit calculated?
Simply take your total product revenue and subtract the Amazon seller costs and product cost. Profit Cyclops uses its Amazon profits calculator to take the guesswork out of determining the seller costs along with other tools which provide valuable profit metrics, illuminate inventory issues, highlight sales trends and much more.
What is a good profit margin on Amazon FBA?
As a newbie on Amazon, shoot for 100%! With growth and experience, you will grow your profit margins by finding what sells and how to sell through proper sales and marketing measures.
How do you increase Amazon profit margins?
Just as a journey of 10,000 miles begins with a single step, your profits start with an Amazon profit calculator. When you calculate your profit margin, you know where your money is and where you want it to be. Profit Cyclops can help you refine your keywords, PPC marketing strategies and so much more.
Make your journey to higher profits on Amazon with Profit Cyclops. We offer your Amazon business the timely data estimates you need to drive your sales higher and higher so you have the information you need to build the enterprise of your dreams.