Selling on Amazon may seem very profitable, but you have to calculate the fees imposed by Amazon carefully and correctly to make real profit.
There are many fees, but one of the most underestimated is clearly Aged Inventory Surcharge (previously known as Long Term Storage Fee) which can easily and quickly eat up your profit.
In this article we will explore Aged Inventory Surcharge and how to avoid it. And as a bonus, we will give info about Storage Utilization Surcharge which is actually billed under Monthly Storage Fee but it would be better to think it as a long-term fee.
What is Aged Inventory Surcharge (Long Term Storage Fee)?
When is the Aged Inventory Surcharge fee calculated?
How to calculate it?
How to avoid AIS?
Bonus: Storage Utilization Surcharge
Result
ProfitCyclops: All-in-One Solution

How to find out ASINs/SKUs that you pay Aged Inventory Surcharge?
Aged Inventory Surcharge (AIS) is the fee charged by Amazon to sellers who use the Fulfillment by Amazon (FBA) service and store their products in Amazon's warehouses for an extended period of time, more than 180 days.
The fee is charged on every 15th of the month and it depends on the volume occupied by the seller's inventory (in cubic feet), the length of time (in days) the inventory has been stored in Amazon warehouse, and the category of the inventory.
Prior to April 15, 2023 no AIS was calculated for items aged less than 270 days.
But after that day, new tiers are introduced to begin the AIS on inventory aged between 181 to 270 days for all products except items listed under the clothing, shoes, bags, jewelry, and watches categories.
So basicly, there are 2 conditions for AIS to be charged: your inventory should be in the warehouse for more than 180 days and it should be in a category other than clothing, shoes, bags, jewelry, and watches categories. So these categories are AIS exempt categories.
On the 15th of each month, if an inventory is aged more than 180 days, than its AIS will be calculated and charged to you.
So if you have an inventory (which is not AIS-exempt) aged more than 180, get your pens and paper to calculate the AIS that you will be charged. But how to calculate it?
Basicly you need to know 3 things to calculate AIS: age of your inventory, volume of your inventory and the fee per cubic foot. So you will need the following chart to do the calculations:

Age of inventory: Determine the age of your inventory by checking the date that each unit was received by Amazon.
Volume of your inventory: Multiply the length, width, and height of each individual unit and than multiply this number with the total number of units.
The fee per cubic foot: Check above table to determine the applicable fees for your inventory with regard to its age.
Assuming you got all of the above numbers correctly, multiply the volume of the inventory by the applicable fee per cubic foot. For example, if you have an inventory aged 264 days and its volume is 2,500 cubic feet, than you will be charged a total of (2,500*1.50) $3,750.00 for that month only. On the 15th of next month, the calculation will be done again.
We should note that this is only the Aged Inventory Surcharge. Monthly storage fees will also continue to be applied to your inventory. Because of this, keeping an eye on the inventory is an important issue to keep your profit margin as high as possible.
As we stated earlier, it is very important to monitor your inventory regularly to ensure that no AIS is charged and will not. You should plan your inventory carefully and take proactive steps whereas necessary to avoid being charged and maximize your profit.
Managing your inventory: You should check your inventory level at the beginning of the whole process. You should not order inventory items in excess amounts which will not be sold in the following 180 days. To be able to do this, the number of sold inventory items in a certain period data should be available. So do not overstock.
Removing inventory: If there is a risk of AIS and the risky items are not selling fast enough, you can issue a removal order to remove the inventory from the warehouse. While removing the inventory, keep in mind that FBA Removal Order Fees apply. Also, a disposal order may be issued to dispose of items and it costs the same as removal order.
Reducing prices: If AIS is becoming an issue, think about reducing your prices to become more competitive and sell more items rapidly. Even at a price level that does not make you any profit, at least you will avoid AIS. Also you might consider time-limited promotions and discounts for items at the risk.
Advertise your inventory: Use one of Amazon's marketing tools, such as Sponsored Product ads, Sponsored Display ads to advertise your inventory items. By the help of this, you can boost your sales for a particular item and avoid AIS, but keep in mind that ads are not free.
Liquidate: Liquidate your items by keeping them down at least 20% and moving them through Amazon Outlet. This will decrease your profit, however your AIS will be lower too.
Amazon introduced a new surcharge for the monthly storage fee starting April 1, 2023. "Storage Utilization Surcharge" is based on the the storage utilization ratio, which is the ratio of your average daily inventory volume stored in cubic feet divided by the average daily shipped volume in cubic feet over the trailing 13 weeks. It is calculated on the last day of a given month. This means that for inventory stored in July 2023, the ratio is calculated on July 31 and the surcharges are applied in August 2023 storage fee charges.
The surcharge will be applied to professional sellers with a storage utilization ratio above 26 weeks. So new sellers, sellers with individual selling accounts, and sellers with less than 25 cubic feet daily volume are exempt from this surcharge. The surcharge will be added to your base monthly storage fee for all items, resulting in a higher total monthly storage fee.
Although it is charged under monthly storage fee, it can be said to be a long term fee since its calculation is based on the previous 13 week period.
The storage utilization ratio will be calculated "by dividing average daily inventory volume stored by average daily shipped volume over the trailing 13 weeks, and normalizing it by number of weeks." So if you have an average daily inventory volume of 100,000 cubic feet and average daily shipped volume of 300 cubic feet, than your ratio will be (100,000/300) /7 which is equal to 47.62 weeks. It actually means that your inventory will be enough for approximately 48 weeks if you keep the same selling velocity.
After calculating the storage utilization ratio, you can check the following table and find the one that suits you. Also keep in mind, oversized items are charged less.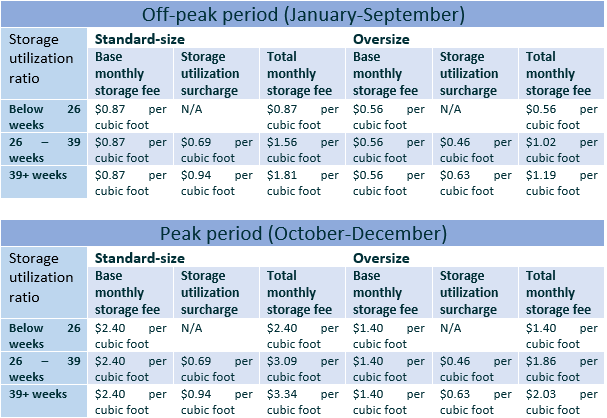 Basically, if you keep your inventory numbers below 6 months selling numbers for each inventory, than most probably you will not be charged Storage Utilization Surcharge. But it is sometimes very laborious to keep track of numbers for each item. However, if you don't, it could be devastating for your business since this cost is applied to all your inventory.
All in all, estimating and tracking all of these costs is a time-consuming and challenging task, especially if you are a seller with a large number of products on Amazon. Therefore, many sellers lose money even when they think they are making a profit. By the time they realize this fact, it is too late. But don't worry, the Amazon FBA calculator Profit Cyclops will save you from this trouble.
On Amazon Seller Central, you may be able to access some information about your expenses and charges, however, the reports that are provided do not sufficiently explain in detail your exact expenses and charges and how it affects your business. You also cannot review the majority of the expenditures that will be applied to your account in the next period. Profit Cyclops not only offers all of this information but also visualizes it with graphs to make it more understandable.
The Profit Cyclops all-in-one platform includes everything you need to reach your goals on Amazon. You can easily obtain accurate metrics about your business' most important key performance indicators (KPI) as well as all of your expenses, such as advertising costs, storage fees, and shipping.
Profit Cyclops offers real time data daily, weekly, and monthly to help you keep a bird's eye view on your Amazon business so that you can make better decisions on pricing to maintain a high profit margin. You can save hours of your time by reviewing your profit dashboard, P&L statement and product breakdowns as well as take quick action if your product starts to cost you money and is not profitable. You can quickly spot changes in FBA Fees as well as trends or opportunities, making you one-step ahead of your competitors.
You can go to the Profit Cyclops homepage, watch the promotional video or you can try the demo version for yourself.
With this tool, you only need to input the product's production cost. It displays all of your spendings on the dashboard without requiring you to do anything else. You can check how much your Amazon FBA fees are and other Amazon charges you have paid by adjusting the time period. With Profit Cyclops, there is no need for another Amazon seller calculator tool. Everything you need to sell on Amazon can be found in one place!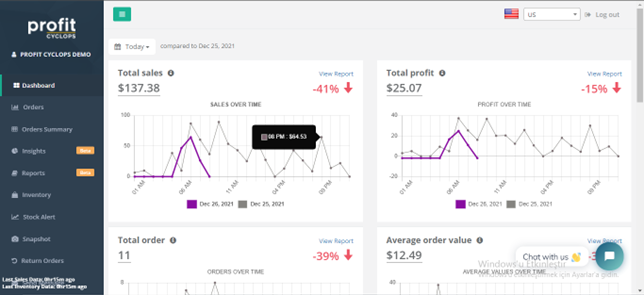 Dashboard Page
In ProfitCyclops, under Reports tab choose Storage by Product report. In this report, you can see monthly storage fee, aged inventory surcharge and total of these two grouped as per SKU/ASIN. You can also search and filter the listings by SKU, ASIN, FSKU and product name.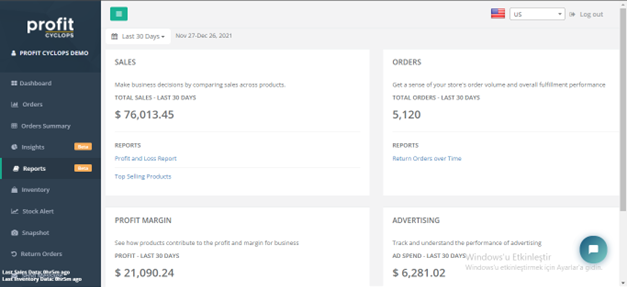 Reports Page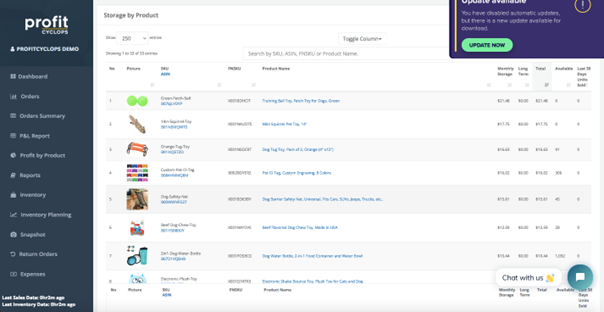 Storage by Product Report
On the inventory page, you can find detailed analysis about your inventory items. You can track available and pending items and their costs. Also you can observe the expected revenue of all your inventory.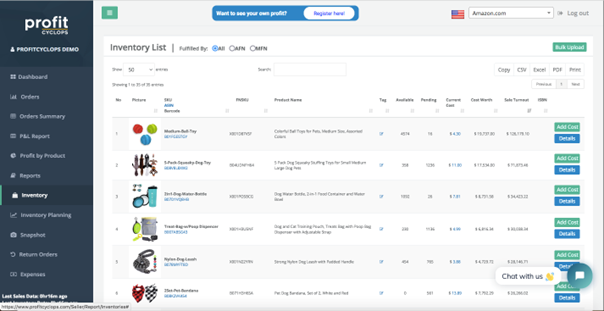 Inventory Page
On the inventory planning page, you can keep track of your out of stock items as well as items that are running out. Also, you will be able to see which items might be at the risk of incurring Aged Inventory Surcharge and Storage Utilization Surcharge at the "Overstock" tab. This helps you take action at the appropriate time to avoid these surcharges.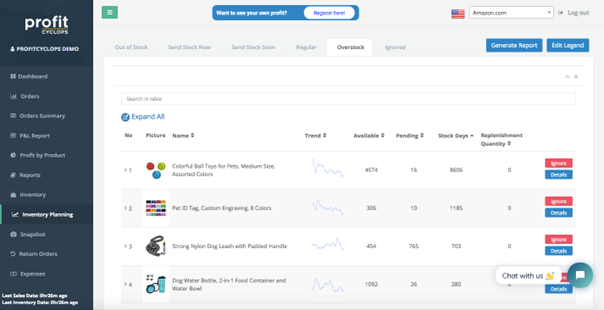 Inventory Planning Page
On the reports page, you can find a detailed analysis including profit and loss reports, top-selling products, multi-metric sales momentum report, return orders over time, storage by product, most profitable products, insights, Advertising Cost of Sales (ACOS) report and ACOS by product reports.
Under Profit and Loss report you can observe storage fees paid in gross including both monthly storage fee and aged inventory surcharge and also inbound transportation cost.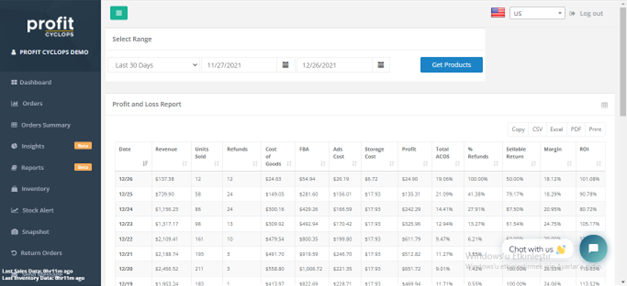 Profit and Loss Report Page
You can also display all of your orders and orders summary per item. Return Orders section will give you insight about which items are returned the most and the reasons behind the returns and also the return comments. Profit by Product section will inform you about the most profitable products so you will be able to decide which products to sell more, and which products to give up selling.
Using ProfitCyclops, you can easily track your aged inventory surcharge and storage utilization surcharge besides other Amazon fees. You can exploit P&L report (for gross) and Storage by Product report (for per item view) under Reports tab to keep an eye on these surcharges.
So, why waste time on making these complex calculations when all of these reports are easily accessible on Profitcyclops.com? Sign up today to get started.