The holiday season has arrived, and parties and gifting are in full swing. The pandemic has changed how we buy gifts so many people have switched to internet shopping.
This, together with the typical increase in sales around the holidays, has compelled merchants all over the world to use more advanced tools to get through this hectic season of the year. The key to succeeding during this season is making sure there is enough inventory and setting up the most effective kinds of promotions and discounts to target consumers.
When it comes to holiday marketing, every detail needs to be planned out precisely. Everyone is extremely busy during this time, and merchants are always hustling to stay competitive. Preparing sales and promotions ahead of the season increases profits and conversions.
When promotions give sellers discounts, coupons, etc., they also cost the sellers money. Making an adequate budget for them is crucial. Deciding which products to promote is essential to the success of a promotion. It is important for the seller to choose goods with the highest profit margins because not all products are suitable for advertising. These products should be hot selling items, eye-catching and desirable for consumers.
This year's lack of planning could have contributed to retailers offering deals on less-than-stellar goods on Black Friday and Cyber Monday. Because of these subpar discounts and deals the consumers were not compelled to make as many purchases as they usually would have.
As a result, compared to the previous year, Black Friday and Cyber Monday sales decreased in 2021. Cyber Monday sales decreased by 1.4% from last year's numbers while Black Friday sales also decreased, according to Adobe Analytics. Despite this, Amazon still had the highest recorded sales between Black Friday and Cyber Monday.
Some top-selling categories sold by Amazon this holiday season are:
Home goods
Toys and games
Books
Clothing and Apparel
Camera and Photo
Electronics
The most popular holiday item purchases were electronic devices such as the Fire TV sticks and Apple AirPods.
With a variety of strategies you can adopt and implement to maximize sales, let's examine some of the options to take profits to the next level.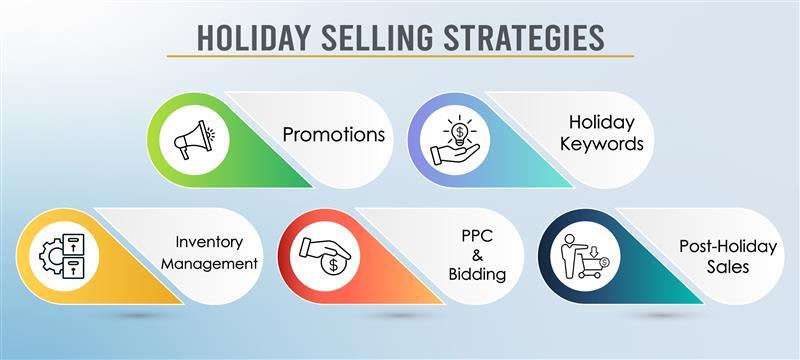 Amazon vendors utilize promotions to sell their goods for less than they normally would. Lower prices make it simpler to convince a bigger number of clients to purchase your products while expanding the reach of your brand. Amazon is well-known for its availability of economically priced items, and customers are always using Amazon to search for the best deals.
By utilizing the "Advertising" area of Seller Central, these promos can be quickly generated. You can choose the promotions you wish to run and for which products the promotions will apply.
These are the different types of promotions that can be generated from the Seller Central:
"Discounts" is a popular option because the seller can choose a percentage to take off of the items such as 20% off, 50% off, etc.
Sellers have the option to use a BOGO offer to market their goods. If you want your things to sell out quickly, a buy one, get one free or buy two, get two free deal is fantastic. With BOGO deals, customers are often persuaded to purchase several items at once.
Offering "Free Shipping" when customers purchase things for a certain amount is another simple technique to promote an item. For example, offering free shipping if the order reaches a minimum of $50. Consumers will often spend more on an order to avoid paying for shipping, which in turn can bring in more profit.
Coupons are yet another method of attracting customers to any product detail page or the Amazon SERPs. These are simple to use and help your products stand out from competitors throughout the busiest holiday shopping season. However, a budget of $100 is needed as a minimum to run coupons.
By selecting "Create a new coupon" from the "Coupons" menu in the "Advertising" area of Seller Central, coupons can be quickly generated. Similar to Amazon's Pay Per Click model, coupons also cost a small fee for each coupon redeemed by customers. Amazon will collect a fee from you every time the coupon is used when a customer makes a purchase while redeeming your coupon. Coupons require some investment from the seller but they can have a large payoff by bringing your products into the spotlight.
Running discounts on Amazon is an effective way to increase sales and traffic to your listings, so they are a great strategy for maximizing profits and visibility. That's because Amazon advertises these offers, through a variety of social media platforms and email promotions. But bear in mind that not all products are eligible. You must determine which ASINs satisfy the requirements then you can pick between Lightning Deals and 7-Day Deals.
Like promotions and coupons, "deals" can be made by clicking the "Create a new offer" option under the "Advertising" section on Seller Central. For running deals, sellers are required to pay a fee that varies based on the type of deal being promoted . The cost for 7 Day Deals is $300, while the cost for Lightning Deals is $150. You may edit or modify your listings using the Deal dashboard, which also provides you with all the information you require regarding which products are qualified. Because of the higher fees required to run them, deals are great for sellers that wish to sell a large amount of products so the promotion will turn a profit.
Utilizing popular keywords related to holiday-specific shopping is integral to the seller's strategy to increase traffic and boost conversions. Using these keywords will optimize the listing and direct the right audience to the product. Amazon keyword research is something that the seller needs to stay on top of throughout the year. Generic keywords are usually applicable throughout the year but it is important to incorporate holiday specific or seasonal keywords into the listing during the appropriate time frames. When writing a product description or bullet points, applying these keywords will ensure that the product reaches its targeted audience and increase sales.
Use SellerApp's Reverse ASIN function to find out which seasonal keywords your competitors are choosing. This feature will help you decide which keywords are popular among similar sellers and allow you to implement them into your own product listings. With this tactic, you can increase engagement with your competitors' target audience.
Holiday keywords are useful for PPC advertising as well as product listings. You will now have an extensive list based on the keyword research you have already done. Keywords or search terms that customers would use to look for products throughout the Christmas season should be included in this list. For example if you are selling fairy lights you could change the title to Christmas lights to attract seasonal shoppers.
It is important for the seller to pay attention to inventory and prevent items from running out of stock during peak seasons. Effective inventory management contributes to higher profits for the seller because it is catering to the demands of the buyer. It is disappointing for consumers when an item they had in their cart runs out of stock. Showing customers when an item reaches a low number of stock by showcasing exactly how many units are left is an important strategy to avoid this. For example, showing "only 2 left in stock" with a listing not only makes the customer aware of the available quantity, but it pushes the customer to make a purchase right away.
Be sure to run PPC campaigns only for products that you are already storing in the warehouse and that have enough stock. It is not beneficial to run campaigns for products that will go out of stock soon. Once inventory begins to get low it is advised to stop running the campaigns for that particular product. It would also be beneficial to run campaigns on items that have been in the warehouse for a long time so they can be restocked with fresher items.
Running ads on Amazon more often than just the holiday season is important to drive conversions. To make them more effective you should start to run the PPC campaigns well before the start of the holiday season. This gives more visibility to your campaigns and allows consumers to gain more impressions of your promotions that will be running during the holidays. Campaigns that have been running for longer durations are typically more favored by customers than fresh ones, according to Amazon. Also it is essential to be sure to include holiday keywords in your advertisements. This will increase the chances of customers coming across your ads and engaging with your products.
Dynamic bids - Up and Down is an Amazon bidding tactic that is effective throughout the holiday season. Everyone is vying for the best spots for their advertisements. Therefore, using this type of dynamic bidding will enhance the likelihood that your ad will show up for certain keywords, such as seasonal keywords. This is a surefire way to increase conversions and sales. It goes without saying that increasing your PPC spending during this busy season is necessary for all of these methods to be successful. Without enough funding, you risk wasting your advertising budget during key hours of the day when your ads stand the highest chance of landing in the top spots.
Now that we have mentioned different ways to increase sales during the holiday season, we should also take a look at what to do post holiday season. You can continue banking on the holiday season shopping frenzy by extending your promotions. This can be especially helpful if you have stocked up on inventory to meet high holiday demands and need to get rid of the remaining inventory. Customers are often pleased to see that offers are still running past the holiday season, or that newer, better offers have been introduced.
As for getting rid of excess stock, items like clothing, accessories, and electronics won't be a big deal, but if perishable products have shorter shelf lives, they must be sold as rapidly as possible. Greater discounts are beneficial in this situation since you can still sell the items at a loss rather than having to throw them away. To avoid depleting your profits due to decreased competition, you must recalculate the prices of the things you discounted during the holiday season. This is due to the fact that your rivals will also be raising the prices of their products that sell quickly.
It is important to put promotions into place a few weeks before, and immediately after a busy season. Activating these deals at the appropriate time will help you to outpace your competition, This doesn't require you to put big discounts into place, but some sort of promotion will help to put your inventory on the consumers' radar.
You should begin this process well in advance since developing a holiday selling strategy takes time and patience. You will need to arrange your promotions both before and after the holiday season. The holiday selling strategy must take into account price analysis, stockpiling supplies, product listing page optimization, and PPC advertising. To have a successful Christmas season, pay close attention to every detail and keep a close eye on which methods are most effective in reaching your target audience.